TMJ and TMD Treatment in Calgary
Don't suffer from TMJ and TMD pain in silence. We will help you find a solution.
Problems with the temporomandibular joint affect hundreds of thousands of Canadians every year. Yet many people choose to suffer in silence, unaware that there could be a simple solution.
Your TMJ is the most frequently used joint in your body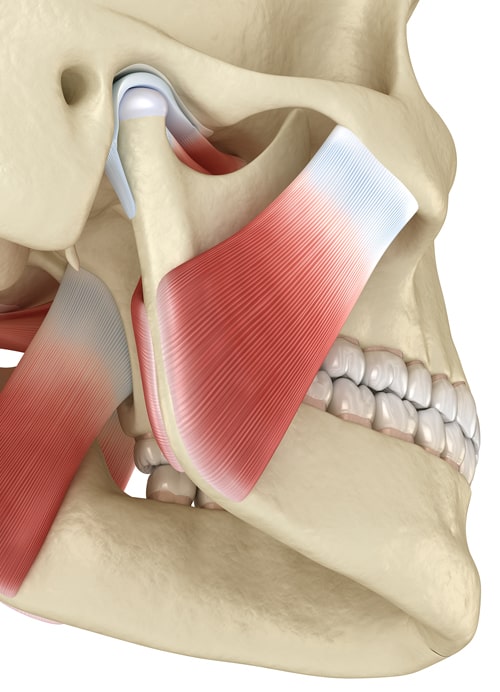 The TMJ is where the temporal bone of the skull connects with the mandible or lower jaw bone. These two bones are cushioned by a thin disc of cartilage. When you place your fingers on the bony structure in front of your ears, about mid-ear height, and open your mouth, you can feel your TMJ working.
If you feel a clicking sensation when you open your mouth, or if you have trouble chewing, biting, talking or even breathing, this could be caused by a temporomandibular joint disorder. Get in touch with us at Eastport Dental to find out if there's an issue with your TMJ and what options exist for us to help you.
Genetics, oral health and lifestyle all play a role in TMD:
Problems with the temporomandibular joint can be linked to a number of causes. These are some of the most common issues that cause pain and discomfort in the TMJ.
A bad bite caused by missing or poorly aligned teeth
Trauma to the TMJ
Clenching teeth at night or in the day
Teeth grinding at night
Emotional stress causing the two conditions above
Arthritis
At Eastport Dental we will work with you to find the cause of your temporomandibular joint disorder and then help you choose the best treatment.
Pain from your TMJ can present itself in other parts of the body
If you have TMJ issues you may experience pain in your head, ears, neck and teeth. The TMJ has even been linked to migraines. So if you have pain that cannot be explained by other conditions, speak to Dr. Newman about your TMJ and TMD and he will help you understand your personal situation better.
Treatment options for TMJ and TMD Disorder
We put you in control, offering a range of treatment options to give you a pain-free life
There are many options for treating your temporomandibular joint disorder. We'll work with you to find a solution that fits your unique situation and lifestyle. We may offer the following treatment options to address the TMD and ease your pain:
Restore your bite with dental crowns to lift the profile of your teeth
Correct spaces between your teeth using dental bridges and dental implants
Suggest orthodontic treatments to improve the alignment of your teeth
Adjust your bite using a process called equilibration
Provide a splint or night guard to reduce clenching and grinding
Refer you to a physiotherapist, massage therapist or other health care practitioners
Use Botox or Xeomin to help your muscles relax and reduce the pain in your TMJ
We can't wait to meet you!
New patients are always welcome here!
We'll greet your smile with one of our own.
Find answers to your most frequently asked questions about TMJ and TMD Treatment